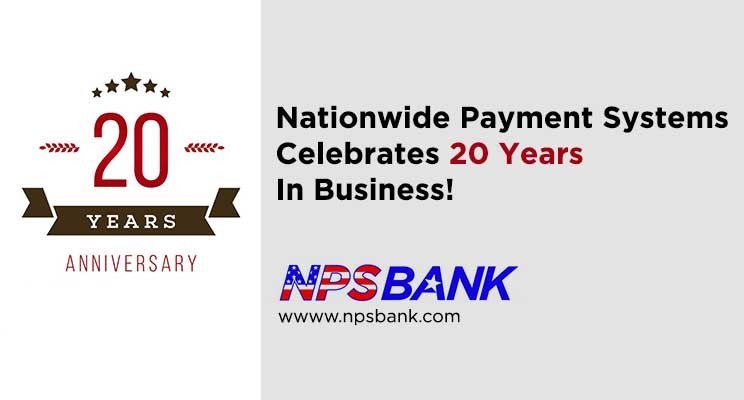 We are proud to announce our 20th year in business, as we have crossed another milestone in the history of our company, on January 4th, 2021. We take this occasion to thank all of our employees, partners, processors, and of course our clients. Each of you has been an important part of Nationwide Payment Systems.
When Allen Kopelman and Dave Burney started, we wanted to provide personal service and be the main point of contact for our clients and provide clients with the best customer service we can. We still maintain that 20 years later. If a client has an issue we are ready to jump in and get involved and get it resolved.
In the last 20 years, we have seen many changes in the payments industry, along with legal challenges that have faced the industry along with EMV, cloud, and integrated solutions.
What have we done lately?
Launched a new website – www.npsbank.com has been revamped and we have added all of our integrated and Fintech solutions we have over 500 integrations that we work with and we have now organized them on the website. NPS is now more of a fintech company than a credit card processor.
Cash Discount – we launched this program for merchants a couple of years ago and with the pandemic, this is a great way for merchants to save money.
Merchant Stimulus Programs – we just launched this – we have gone to our bank partners, processors, and providers and put together programs to help business owners. View the programs here.
What began in a small office with one computer and 2 hard-working guys have risen to stand tall and grown from a company that provided little boxes to process cards to a full-service provider of Fintech. Our company has countless achievements and accomplishments, especially from last year which proved to be exceptionally productive for our company. Without the support of our excellent team, it would never have been this big. Every one of you plays a very important role in the development of our company. It is your enthusiasm, support, and dedication that has helped us make the last 20 years a success. Nationwide Payment Systems shall always remain indebted to the contributions of our employees past and present who have been a part of the team. We are also grateful to our clients and customers who trusted us to help provide them with payment services and products. Their demands, challenges, and feedbacks have pushed us to improve, adapt to change, and find new solutions.
Our success story remains incomplete without the support of our clients and customers. Not only have they made us a part of their lives but also helped us reach out to the world. They spread the word faster and in a better way than any of our promotional means could.
Over the years we have worked with and donated to many charities that our clients are involved with and cause that is important to us. This will continue as we move forward because giving back to the community is important to us. Support a local family-owned company here in South Florida, do business locally, and put money into the local economy. We have all the latest solutions that help you run your business and solutions to help you adapt and grow your business. As we look into the future we are prepared to help businesses grow, adapt, and change and get them the latest technology solutions, along with staying involved in the local community and serving our current clients.
Thank you to all of our customers from Allen, Dave and the Staff at Nationwide Payment Systems!